Our Staff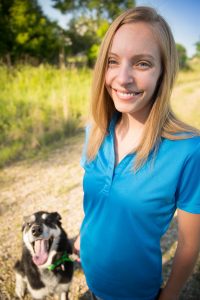 Kelly Kernen – Owner
Kelly is an In-Home pet sitter with 10 years Veterinary Technician experience. She wanted to do something that allowed her to be her own boss, and still take care of animals which has always been her passion.
Kelly graduated with a degree as a Veterinary Technician from Moraine Park Technical College in Fond du Lac Wisconsin.  After she graduated, she worked full time in a clinic in Ripon Wisconsin.  She worked there for 10 years, but after having their 3rd child, decided that staying at home with them was more important.  She loved staying home with her children and being able to be more available to them, but she still wanted to work with animals. That was when she decided to start a pet sitting business. It would allow her to care for animals, and work around needing to be present for her kids. She is currently serving the Fox Valley area in Appleton Wisconsin.
Kelly also has 4 legged kids too! She has two dogs, and three cats. Our first dog is Chewie (Chewbaca if he gets in trouble). He is a wonderful mix of Siberian Husky, Australian Cattle Dog, Beagle, Neapolitan Mastiff, Belgian Tervuren, Wirehaired Pointing Griffon, and Japanese Spitz (we did the Wisdom Panel on him when we adopted him). Our other dog is Mitzie, a Labradoodle who we rescued as well.  Then our three cats Apollo, a Domestic Short Hair, Karma, a Domestic Medium Hair and Maggie, a Domestic Medium Hair all of whom we also rescued.  We had a Ragdoll named Boots who passed away due to Kidney failure. If you haven't guessed already Chewie and Boots were how she got the name for her pet sitting business, and because boots (the ones you wear) are chewy!
Allie – Overnight Sitter

Worked at the Animal Medical Center in Appleton, WI. She is originally from Michigan but lived in Texas for two years where she was a Veterinary  Assistant at Family Friends Veterinary Hospital. She has grown  up with animals her whole life and currently has four pets at home – Clem, Fred, Amira, and Apollo who she loves very much!
Krista – Dog Walker/Pet Sitter 
Used to work with and train dogs and horses. She has had a passion for animals her whole life. She currently lives with her boyfriend and two fur babies Axel and Eun.
Krista provides service in the Oshkosh area and looks forward to building relationships with our clients!
Kayla – Dog Walker/Pet Sitter

Is on her way to becoming a certified professional dog trainer (CPDT). She has spent the last 5 years learning from, and working with the best force free trainers in Wisconsin.  She graduated from the University of Wisconsin – Whitewater with a degree in Ecology, Evolution, and Animal Behavior and a minor in Psychology. In her time there, she spent 3 years researching chemical communication between dogs.
She has gained experience over the years from teaching training classes, conducting private behavioral consults, and from training her own family pets.  She started by training her parents' dogs, Archie (Golden Retriever) and Maxwell (Border Collie), and then began to challenge herself by adopting and training her pet rats!  After college, she adopted her own dog named Macy Jane, an Australian Cattle Dog, and they have been best friends every since!
Kayla still works as a trainer teaching night classes at Best Friend – Companion Dog Training, and is happy to join the Chewie Boots family as a pet sitter/dog walker as well!
Please contact us if you are looking for a fun, reliable, professional pet sitter for your pet.